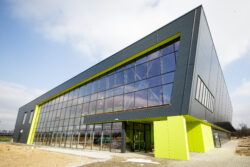 The design and architecture of the building is of minimalistic form. Sloping, dynamic structure of the arena mirrors its function. A partially two storey main hall has been designed. On the 1st floor, next to the spectators entrance there is a café overlooking the arena and its surroundings. Along the whole south façade there is a glazing, with the view of the entire artificial pitch.
The sports arena will include a full-size handball, basketball and volleyball courts. This arrangement will make conducting activities in three separate groups possible. Besides its main function the building will also host cultural events.
The investment on the lot No. 6/61, the area of Kręczki Kaputy with a total useable floor area of 3585 square metres with the stands capable of seating 500 people, started at the beginning of 2016. On 18th January 2016 it was accepted via the public tender. The gross amount of the investment is almost PLN 11 000 000.