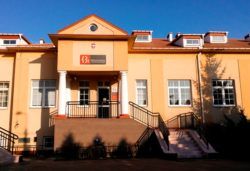 Public Library in Ożarów Mazowiecki was established in 1984. Currently, it operates as an individual cultural institution which performs its objectives in three different locations – at its headquarters in Ożarów Mazowiecki, at Branch No. 1 in Józefów and Branch No. 2 in Święcice. There is a circulation desk for adults and a special section for children in our library. The place operates as a public district library for the West Warsaw District and as such it co-creates a network of public district and provincial libraries. An electronic system called MATEUSZ functions at the institution and in enables readers to get a remote access to the indices and their individual accounts.
Apart from the systematically updated collection of books and multimedia, the library gives free access to the Internet and its electrical equipment. We are constantly expanding our offer with new eServices. In January 2015 the Digital Interlibrary Loan Service of ACADEMICA scientific publications was launched. Internet users can use our digital libraries. We especially recommend the Mazovian Digital Library which is constantly being enriched by regional rarities.
All library institutions are important for promoting culture and books access. They play an essential part in the everyday cultural education and the process of supporting the educational system – library classes are conducted here, as well as thematic activities for children and teenagers. There are meetings with authors, workshops and special interest groups for adults and senior citizens. Library branches are places of the local communities' meetings. They play an important role in the development of a modern digital society. Our institution cooperates with the local and outside social organisations, building relationships within the civil community.
Contact:
Public Library in Ożarów Mazowiecki
2 Szkolna Street, 05-850 Ożarów Mazowiecki
Tel. /22/ 722 12 65
email address:: biblioteka@ozarow-mazowiecki.pl
Branch No. 1 in Józefów
15 Fabrczyna Street, 05-860 Józefów
Tel. /22/ 292 60 22
email address: jozefow@biblioteka.ozarow-mazowiecki.pl
Branch No. 2 in Święcice
53 Warszawska Street, 05-860 Święcice
Tel. /22/ 721 02 60
email address: swiecice@biblioteka.ozarow-mazowiecki.pl